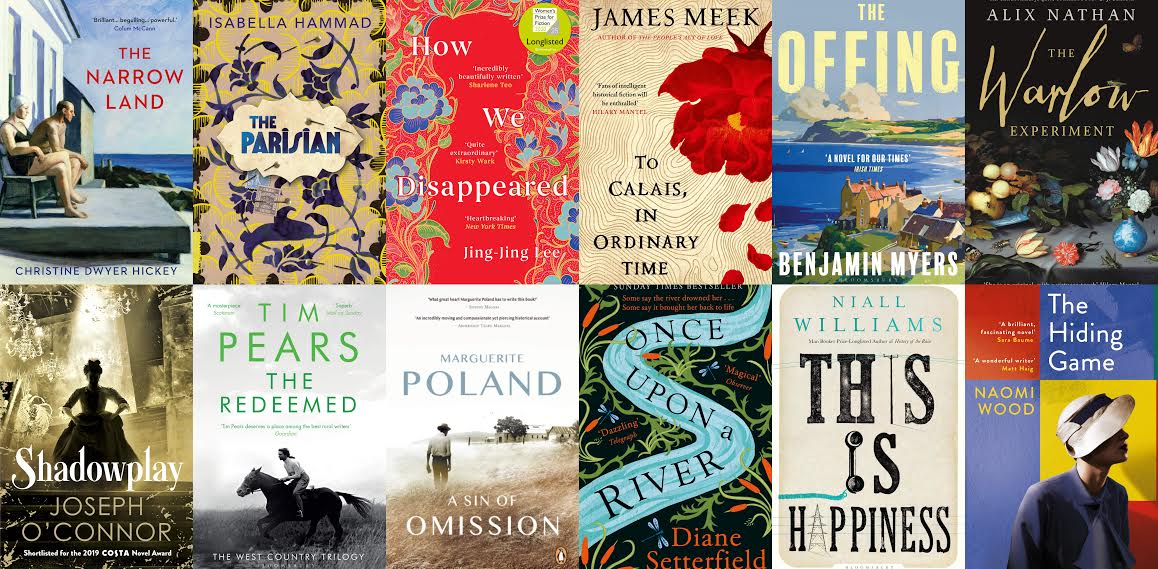 Walter Scott Prize announces 2020 longlist
by Rebecca Raeburn
Communications, Edinburgh
City of Literature Trust
11 March 2020
The Walter Scott Prize for Historical Fiction has announced this year's longlist, along with the appointment of a new Chair of Judges
The Walter Scott Prize for Historical Fiction was founded in 2009, and is awarded at the Borders Book Festival in June every year. The winner receives £25,000, and shortlisted authors each receive £1,500.
The Prize honours the work of Edinburgh author, Sir Walter Scott, who is widely regarded as having pioneered the historical fiction genre.
The twelve books making the longlist this year are:
- The Narrow Land by Christine Dwyer Hickey (Atlantic)
- The Parisian by Isabella Hammad (Jonathan Cape)
- How We Disappeared by Jing-Jing Lee (OneWorld)
- To Calais, In Ordinary Time by James Meek (Canongate)
- The Offing by Benjamin Myers (Bloomsbury)
- The Warlow Experiment by Alix Nathan (Serpent's Tail)
- Shadowplay by Joseph O'Connor (Harvill Secker)
- The Redeemed by Tim Pears (Bloomsbury)
- A Sin of Omission by Marguerite Poland (Penguin South Africa)
- Once Upon a River by Diane Setterfield (Doubleday)
- This is Happiness by Niall Williams (Bloomsbury)
- The Hiding Game by Naomi Wood (Picador)
The judges of the 2020 Prize are Katie Grant (chair), Elizabeth Buccleuch, James Holloway, Elizabeth Laird, James Naughtie and Kirsty Wark.
The Walter Scott Prize for Historical Fiction is open to books published in the previous year in the UK, Ireland or the Commonwealth. Reflecting the subtitle 'Sixty Years Since' of Scott's most famous work Waverley, the majority of the storyline must have taken place at least 60 years ago.
A shortlist, usually of six books, will be chosen and announced at the beginning of April. The winner will be announced at the Baillie Gifford Borders Book Festival in Scotland on 12 June 2020.
You can find out more about the books on this year's longlist over on the Walter Scott Prize website.
The judges said:
"In its eleventh year, with more submissions than ever before, the 2020 Walter Scott Prize longlist reflects the energy and dynamism of modern historical fiction, a genre presenting authors with very particular challenges and delights. As always with our longlist, readers will find themselves in all kinds of places in all kinds of centuries, both in the company of familiar authors and hearing newer voices. It's a privilege to bring these books to wider attention through the prize. So much to savour, so much to think about and, most importantly, so much to enjoy."