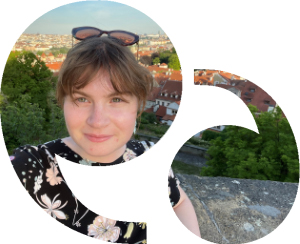 Our International Work Overview 22-23
Cate Schofield Literature House PhD Researcher Edinburgh City of Literature Trust
A key part of our work is connecting Scottish writers to opportunities to travel and share their work internationally.
As a UNESCO City of Literature, Edinburgh is part of a network of 53 Cities of Literature. We use those links to create opportunities for Scottish writers, and particularly those from Edinburgh. Through our work writers have opportunities to work internationally – to apply for residencies, submit their work to develop professionally, or be part of creative commissions across cities globally. This is about us providing paid work or rare opportunities, which help writers develop their skills, networks, and offer time and space to focus on their creative practice. If you are a Scottish writer interested in working internationally, you can access more information on working internationally via the UNESCO Cities of Literature Network.
Over the last year, we've had 30 opportunities for creatives and organisations working in literature in Edinburgh. Included in these were 11 residencies, 13 commissions, as well as 6 collaboration and promotional opportunities. Here's a snapshot of what we've done in 2022 and 2023 so far.
After applying to one of our opportunities, Edinburgh-based writer Sonali Misra completed a residency in Gothenburg, and said that,'I treated the residency like a day job; from Monday to Friday, I went to a library – alternating between both weekly – to write.' Candice Purwin, a comics artist, was accepted for a residency in Quebec City in partnership with Quebec BD. We also arranged for Metaphrog, to represent Edinburgh in Quebec City of Literature's project 'Panel Around the World', which will see newly commissioned comics displayed in all participating cities. We were also asked to submit a poet to perform in Slam-o-Vision, Melbourne City of Literature's global poetry slam, and supported Georgina X from Loud Poets as our entrant.
We also commissioned or shared several artists' works for network events. For International Mother Language Day in February, Manchester City of Literature organised a chain poem, written in both English and each poet's mother language.
We commissioned Agata Maslowska, an Edinburgh-based Polish poet, as Polish is Edinburgh's second most spoken language. We arranged for Cat Hellisen to be commissioned by local SFF magazine Shoreline of Infinity for Leeuwarden City of Literature's Happiness Delayed anthology.
We submitted a piece by Gavin Inglis for an e-anthology of horror, folk and ghost stories local to cities in the network organised by Bucheon City of Literature.
We arranged for
Donald Smith
of TRACS to write about the naming of Edinburgh for Quebec City's Toponomy project, and have commissioned
Cat Outram
to make an etching to accompany Donald's piece, both of which will be displayed in an exhibition at the Cities of Literature conference in Quebec City in October that you can
read more about here
.
This year, we bid for and won the Creative Scotland Gavin Wallace Fellowship, which supports an organisation to host a writing fellowship with a mid-career or established writer based in Scotland. We have appointed Mary Paulson-Ellis, who began the Fellowship in February. Over the next year, Mary will be exploring what it means to be a city writer, and to write about the city, and will be making use of our international network to connect to other writers doing the same, across the world.
We also created and hosted a six-month Ukraine Residency, in partnership with the University of Edinburgh's IASH department. We invited Elena Marinicheva to Edinburgh between September and January. During her time in Edinburgh, Elena hosted a translator's lunch at Push the Boat Out, Edinburgh's international poetry festival, and gave a talk at the University of Edinburgh's Dashkova Centre. She also published work in PENning Magazine, and is working with IASH to publish After the Third Bell, a collection of Ukrainian contemporary prose and diaries translated into Russian.
Elena said of the experience, 'I was constantly supported and cared for by the City of Lit. Everything I've been able to do is because of that support.'
We also promoted Scottish writing through several UNESCO campaigns. We celebrated UNESCO's first World Novel Week in October. As it falls during UK Black History Month, we worked with Lisa Williams from the Edinburgh Caribbean Association to profile Black novelists with a connection to Edinburgh.
We announced our Ukraine Residency as part of UNESCO's International Translation Day, emphasising translation as a key part of the work.
For #17BooksFor17SDGs, an annual campaign lead by Iowa City City of Literature, we profiled a different Scottish book relating to one of UNESCO's sustainable development goals on social media each day for 17 days.
One way we collaborate with the Cities of Literature network is by sharing knowledge through the network. In the last year, we gave Edinburgh librarians the opportunity to join a global webinar run by Krakow, sharing best practice on libraries and technology.
We also partnered in a project (which has been ongoing for the last few years) with The City of Edinburgh Council, together with Edinburgh College - Story Valley. Partners from three other European UNESCO Cities of Literature – Leeuwarden, in the Netherlands, Ljubljana, Slovenia's Capital and Nottingham, UK – were invited to Edinburgh to create new policy ideas as part of its manifesto to use storytelling to improve literacy skills, while preserving and enriching cultural heritage through collaboration.
As part of the visit, the programme brought together the city's literary sector and cultural partners – Edinburgh UNESCO City of Literature, Scottish Poetry Library, Edinburgh International Book Festival (EIBF) and Scottish Storytelling Centre – and showcased the exciting work and projects taking place in Edinburgh to these international partners.